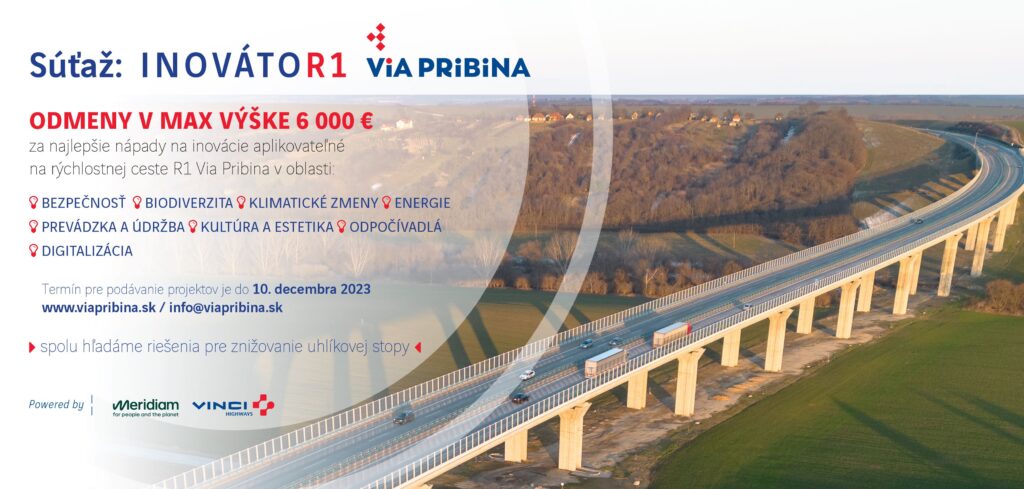 Reward
Max reward: €6000
Possible Investment
The overall investment in the project is separate from the reward, determined by the committee's decisions. A prize pool of €6,000 is allocated for the awards.
Deadline for project submissions
10.12. 2023
Defining the subject of the competition
The "INOVATOR1" competition welcomes innovative ideas that can be applied to the R1 Via Pribina expressway. Whether you have a fresh concept, a prototype, or an existing product that could be repurposed uniquely for the expressway, this challenge is for you.
Who are we, and what types of projects are we seeking?
Security
Biodiversity
Climate changes
Energy
Operation and maintenance
Culture and aesthetics
Rest areas
Digitization
Feasibility of the project
The project must be feasible in terms of the capacities of the concessionaire and the expressway operator (Via Pribina, a.s. and Via Pribina Operations, a.s.). Time schedule and budget must be part of the application.
Consultations
We are available to offer guidance on individual projects through phone consultations. To schedule a consultation, please reach out to us at info@viapribina.sk.
Second round
Once the first round concludes, selected companies will advance to the second round. During this phase, projects will be paired with mentors to refine their ideas or solutions and ready them for presentation to the selection committee, which will determine the top three placements.
Contest announcer
The announcer of the "INOVATOR1" competition is the concessionaire of the expressway, the company Via Pribina, a.s.
Via Pribina, put into operation in 2011 as the first Slovak public-private partnership project together with the Ministry of Transport of the Slovak Republic, has long been fulfilling the goals of its parent companies VINCI Highways and Meridiam, to provide users with safety and quality and thus contribute to positive mobility.
The operations and maintenance of the expressway is secured by Via Pribina Operations, a.s.
Please note that Via Pribina retains the right to adjust the registration dates as well as the competition criteria.
Innovation Competition 
was last modified:
September 22nd, 2023
by