Improvment of road quality and extension of its lifespan
5600 m³ of asphalt recycled at local plant
Zero accidents during the works
Via Pribina, concessionnaire of the R1 Via Pribina expressway, has just completed 14km pavement renovation works between Nitra and Tekovské Nemce, including the Banská Bystrica bypass. These works are part of Via Pribina's heavy maintenance campaign to improve the road quality and extend its lifespan.
The works involved removing the wearing course of asphalt and placing the horizontal marking on the renovated section. In total, 5,688 m³ of asphalt were extracted and recycled at local plants. Moreover, 142 208 m² of the road's wear layer were replaced and an additional 14 399 m² of the road surface were treated with regenerative spraying using a special bitumen mixture. This bitumen mixture, containing stones, gravel and sand, not only addresses tiny blemishes on the top layer but also extends the road's lifespan and enhances its waterproofing properties.
Carried out within planned timeframe between July and October, the works required a dedication of 14,640 man-hours and were delivered with zero accident, in the respect of the VINCI group's safety commitment. EUROVIA SK, subsidiary of VINCI Construction, was in charge of works execution, while Via Pribina Operations, subsidiary of VINCI Highways, expertly managed traffic flow to ensure smooth operation and minimze impact on driving conditions.
Via Pribina will pursue the pavement renovation campaign of the expressway in 2024 in both directions.
Quentin Duchâteau, Deputy CEO of Via Pribina, stated:  ,,We worked under the most stringent safety standards to continue delivering top quality, safety and comfort to drivers. We were able to complete all the works according to plan, even adding an extra extention of the works. ´´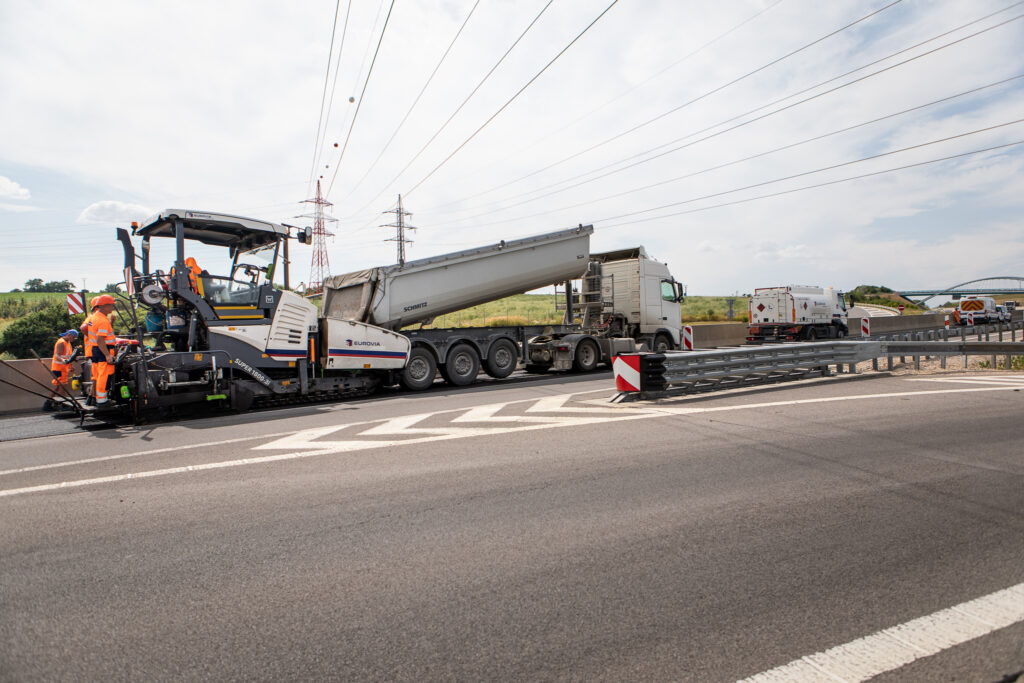 Pavement renovation works completed on R1 Via Pribina expressway
was last modified:
November 6th, 2023
by
Categories: